Music
OPINION: An Asian-American Man's Balanced View of "Gangnam Style"
by Paul T
After watching the "Gangnam Style" video, my first thought was: "This dude is dressed like a cross between a Pimp in the Patpong District of Bangkok and my uncles going out on the town in the early 1980s." I also thought, "What the f&%^ is 'Gangnam' Style?" I wondered if it had anything to do with gangs or Vietnam, since I grew up in the areas of the U.S. where a lot of ex-Vietnam veterans would give my mom the "look," and talk about their time in 'Nam. (They never say, "Vietnam," it is always, "'Nam.")
I discovered PSY's "Gangnam Style" three months ago when a social networking friend of mine said he was DJing a Jewish wedding without any Asian people (not even an Asian woman married or dating a Jewish man – gasp!) and a wedding party member requested the song. The professor/DJ did not have the song with him, but one of the wedding attendees had the song on his phone. A few weeks later, Metta World Peace of the Lakers, commented on how much he loved the song. That was first celebrity comment I read.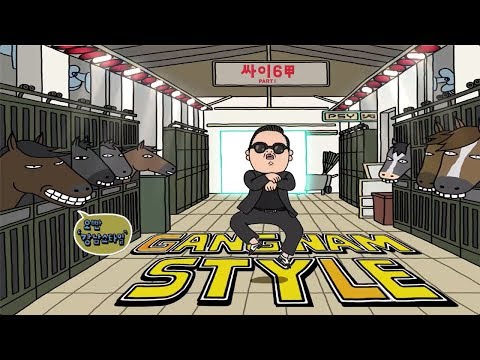 I tutor a group of junior high Asian-American students. My students explained to me that "Gangnam Style" refers to the trendy fashionable area of Seoul. Recently, I watched the video a few more times, adding to the 385 million views the song has received on Youtube. The key aspects to the popularity of "Gangnam Style" are the ridiculous imagery of the video and the production of the song. Forget about the cynical lyrics referencing South Korean women's obsession with material objects and overspending; unless you speak Korean, you can't understand the lyrics. The silly dance, the beat, the music is what hook you in. The music is somewhere between the Far East Movement's Electro Hip-Pop and David Guetta's club pop bastardization of everything that was good about French House, combine it, (add a silly looking Korean guy, who looks like he is going to play Issac on the Korean remake of the Love Boat), and you have a catchy ass song with harmless comical imagery as the video. Everybody is doing this damn dance, from Manny Pacquiao to the CEO of Google. It doesn't matter that the "Hey, Sexy Lady," is said sarcastically and the song's subject matter , a satirization of over-consumption and debt in South Korea, is actually borderline serious. Everybody loves a catchy dance led by an Asian guy who (in the song) doesn't speak much English, but appears to be having a great time in the video being goofy.
"Gangnam Style" is a pop song. A pop song is made with the hope that the masses will enjoy it, and the people behind the song will make money. And forget Robert Christgau, there are no better critics of a pop songs than a group of seventh graders. I asked my students that I tutor about "Gangnam Style," since most of them are K-Pop (Korean Pop Music) aficionados. (When I grew up, every one was into J-Pop (Japanese) or Cantopop (Hong Kong, Cantonese), I guess now with Samsung, Kias, and Hyundais, K-Pop is starting to become the dominant pop culture music with young Asian-Americans.) Not surprisingly, much of the appeal of "Gangnam Style" has to do with the song's crazy video. The seventh graders loved the horses, hot tub scene, the toilet part; and all of them loved the elevator scene. My students loved the simple dance, and nearly all of them smiled when talking about the song's catchiness.
However, when asked why other people who have never heard of K-Pop would like "Gangnam Style," the answers were more varied. A few stated that the people liked the humor and the imagery of the video. Three students stated that other people probably liked "Gangnam Style" because it is "random, stupid, and funny." My students thought that PSY was a cool, hot, sexy, fat, funny guy. The emphasis here is on fat and funny. Somehow, not just my students, but the public tend to confuse being fat and funny with being cool. Since, generally, being fat and funny will not equate to being cool, but somehow, this goofy looking, weirdly dressed Asian guy is cool.
In the Asian-American blogosphere, there have already been many thoughts about why "Gangnam Style" is popular, from people saying that it is mainly about the music to others stating that that PSY is the acceptable non-threatening Asian guy that the public can agree on – kind of like being the temporary version of what Will Smith is for Black people in the eyes of the mainstream public, without any threatening wealth, power, or even slight bit of sexual swagger. I tend to agree with the latter, but as one friend stated to me, "If you put Rain or any other sexy masculine Asian guy in 'Gangnam Style,' it would not work." However, PSY's and the song's popularity can be summarized as this: you would not be threatened by PSY if he tried to talk to your girl. The song is harmless fun, and there is not any real tangible sexiness or coolness about it — because if there was the public would not be comfortable, and the song will not be accepted by the masses. "Gangnam Style" would be relegated to K-Pop loving 12 to 20 year olds in Asia and Asian-American suburbs.
The song is a novelty pop song, perhaps not by Psy's intentions (though I am sure he is not worried about it), but that is the end result after damn near 390 million plus views. And that is the role that the public is comfortable with Asian male performers in music: novelty, light, non-threatening pop. Even the Far East Movement fit into this category with their large sunglasses, and light pop-rap that is overshadowed by either choruses or electro-pop sound clashes. (Their early style was grittier and more urban, but I am not hating their change in musical directions. They are cashing checks, and can tour for ten more years from "Like a G6" and "Rocketeer.") Even with Top Ten Hits, the Far East Movement are still invisible just like Asian-American males in the American pop culture and psyche. Would you recognize any member of the Far East Movement if you saw them in public?
Serious Asian-American performers that look East Asian or Southeast Asian (not racially ambiguous like Bruno Mars or East Indian like Jay Sean) will never have the success of Far East Movement or Psy's "Gangnam Style." Artists from Kai to Jin to Toshi Kubota have tried. They were too serious, too weird, too sexy, too cool – all which made the public uncomfortable and confused the powers that be in regards to marketing them. All these thoughts went into my head the very first time I saw and heard "Gangnam Style," and they are still prevalent in my mind albeit a lot less, since, all in all – I get it. It is a pop song. The dance is easy to do. It is a "horse" dance. It is goofy, and the images are mostly non-sexual; if it is, the sexuality is comically implied. It is how we like to see Asian and Asian-American males in popular culture. And that is fine. I like the song. I like the production. I just thank the higher power and music gods that it is a temporary pop song. Five to Ten years from now, "Gangnam Style" will be somewhere between the "Macarena" and "Mambo No.5," and PSY will be opening up for the Far East Movement at the LAX Nightclub in Las Vegas, where legendary artists like Chingy and Ray J have recently played.
---