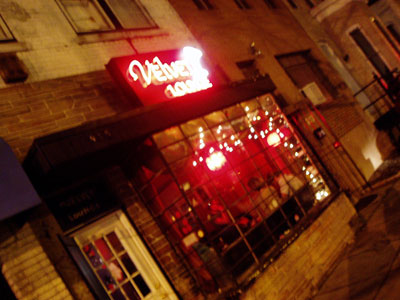 Moombahton's most significant growth occurred in a hole in the wall bar in Washington, DC known as the Velvet Lounge. Nondescipt, the space has served as a home to regular DJ gigs and a small upstairs performance space that has been graced by a plethora of now top name indie rock and dance acts. It's closest kin would be something close to legendary NYC punk venue CBGBs, small but significant. In July, Dave Nada started "Moombahton Mondays" at the venue, and spun epic five hour sets for ten sweltering weeks that touched upon the latest moombahton edits, but also showed the sound's myriad of influences, including but not limited to Bollywood bhangra, hip hop, cumbia, merengue, bachata and funky, soulful house. The parties made household names of a brand new set of DJs, and was ultimately the vehicle that opened the door to the new era of international underground EDM. After ten weeks of parties, there were stars that emerged.
Moombahton Mondays Mix – Summer of 2010 by davenada
Heads Will Roll (A-Mac Moombahton Edit) by DJ A-Mac
Calgary's DJ A-Mac had the first and most pop trending hit of the genre with his edit of DJ A-Mac's remix of the Yeah Yeah Yeah's "Heads Will Roll." It's the poppiest moombahton hit to date, as in appropriating a very pop trending remix and blending Karen Y's yearning with the already present synths, the familiar loping bassline and bright reggaeton percussion, it's a pop winner.
Munchi – Metele Bellaco (Moombahton) by Munchi
Chhavi (Moombhangra) by David Heartbreak
Charlotte, NC's David Heartbreak was a NYC emcee now involved with DJing who was working with a reggaeton devouring beat machine named Munchi from the Netherlands. Upon discovering moombahton, their shared love of hip hop took over, and the duo took moombahton into the crunk of the club. However, Munchi, also obsessed with African kuduro sounds and heavy percussive melodies in general took things a step further. He's akin to what self professed "Philly Club King" DJ Sega is to club music for moombahton, the genre's biggest risk taker who perpetually finds rewards. His tracks have come to push other producers in the genre to new heights, his unrestrained focus and perpetual great track making (yes, he's been making beats since age 11, is now 21 and submitted 175 tracks to DJ Ayres of T & A Records to make a six track EP) a mind boggling statement of dominance. If anyone outside of the leading forefathers of the sound is set to become a major player in EDM off the back of the moombahton movement, the wild haired mellow Dutchman with a penchant for loin splattering bass will be the one.
Munchi – Pun Aint Dead by Munchi
The track making bug has also assaulted DC as well. If at all familiar with The Couch Sessions, then you know Couch Sessions favorite Cam Jus. His productions and edits have always been one of the great joys of his "Blast" mix series, but the DJ has always been a fan of Latin sounds, and I can personally attest to being awoken at various times of the night by the DJ himself being out and about in Latin clubs and speakeasies in the Maryland suburbs where he would go on and on for ages about the new sound pouring from the speakers, Latin house and Latin infused hip hop edits, and how the slow pace of the music kept the party going longer with heightened intensity. Moombahton has inspired Cam, and due to what he refers to as the "viscosity" of the sound, Cam's edits, which started off with MIA's "Boyz" have now dipped into sensually charged bangers that inspire wholesale moves to dance floor explosions. Alongside the more house trending sound of local partner in crime Obeyah, Dave Nada is the padrino of the movement, but not the only local heavy hitter.
no booty (keep rockin) by Cam Jus
The two most key element we will handle in the next and final installment is unity involved within the movement amongst DJs and how the sound makes you feel. The brotherhood in the sound is inspiring. Sonically, moombahton clocking in at about 108 BPMs, allows for the body to step into an alternative universe where the sound waves bounce off of bodies hypnotized by the seductive Latin rhythm and cause gyrations that are lock step dance at a 2/4 pace in a four on the floor dance universe. The next evolution in dance has arrived.