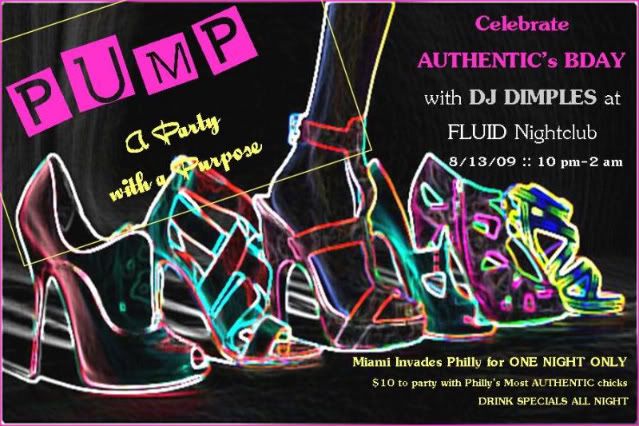 AUTHENTIC is the "premiere Collective for Women in Aural and Visual Arts" & is the brainchild of ease & kholi. These ladies promote the hottest female based events along the East coast, and they are, well…AUTHENTIC.
And of course, you're now foaming at the mouth, thinking, "can I be an AUTHENTIC chick?" Yes! You, too, can be an AUTHENTIC chick. And just who is that AUTHENTIC chick? The academic chick, the chic chick, the b-girl chick, the rocker chick, & all that lie between fit the AUTHENTIC profile. AUTHENTIC chicks take the skin their in, love it, live it, & share it with the world. They have purpose. Crossing an AUTHENTIC chick's path, or rather she, yours, is always an event.
[Insert applause for wonderful segue HERE.]
It's AUTHENTIC's BIRTHDAY! And DJ DIMPLES is coming all the way from MIA to help the ladies of AUTHENTIC celebrate! Mix and Mingle w/ AUTHENTIC's A-list! Meet all the awesome women artists, musicians, poets, fashion designers, etc, etc, that have chilled AUTHENTICally… AND…meet a few new faces AUTHENTIC has just hooked up with! If you're not coming for the $3 drink specials and gorgeous women … get into the cupcakes, body paint, and uh … duhhhh … DJ DIMPLES bringing you such sweet heat all night long!
So come out…see all the folks one last time before you really end your summer … and PARTY w/ a PURPOSE! Philly's FLUID NIGHTCLUB THURSDAY, August 13, 2009 10pm – 2am.
$10 gets you PUMPED AUTHENTICally!