Most people who live in DC are awash in a sea of lawyers, lobbyist, federal regulations and government acronyms, an a sometimes crappy metro system. And to think–we do all this to pay for a $1000 a month studio apartment.
However, it's not ALL bad. In fact, in 2008, DC came into its own. The amount of straight kick-ass parties that this city has thrown this year is a testament to the changing culture of the Capital. And in 2009, with Obama moving into town, the culture of the city will be changing even further. It's only good things from here.
6.) Live at the Renaissance – The Space (RIP)
This was the start of many events here in DC that got people from Chicago to London hating, and for good reason. When was the last time you had barbecue with the Cool Kids? Nuff said.
5.) The Warehouse (Loft?) – Various Events
Some people call it The Warehouse, some people call it the Loft. Whatever you call it, this spot is a one of a kind venue in the city. It's beyond the beaten path location–off of New York Avenue with an entrance at the end of an alley-ensures that only true music heads show up, and the posers stay home.
4.) Commonwealth In Store Events
Commonwealth killed it this year, bringing in your favorite artists in an up-close and personal space with no entourage and no bs. The store brought in such names as Q-Tip (still salty about missing that one), 9th Wonder, Diplo, and Pusha T within arms length of the fans. I can't wait to see who they bring in '09.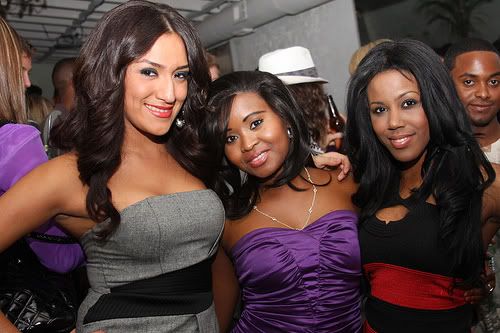 3.) BaRock The Vote – The Space (RIP)
I can't believe that The Space is no longer with us. Everything about that spot was so chill, and it was a much needed breath of fresh air to a DC Scene that's filled with either lifeless K-Street clubs or grungy ass dive bars. Jerome's BaRock the vote party was a banger, bringing in a packed crowd that danced to the cause of Change.
2.) The Coolout – The Beacon Hotel Rooftop, DC
I'm at a loss for words for this party. Adrian Loving and Harry Hotter's Coolout was the best thing to hit DC since Marion Barry (I kid!). The party was the epitome of cool, yet the pretension was left at the door. I'm trying to write something here without the often-used "it doesn't feel like DC," cliches, but it's hard to resist. Because you do feel like you're in LA or Miami when you're on the Beacon Hotel rooftop, and now DC has a party that rivals events in both cities.
1.) My Crew Be Unruly – The Paradox, Baltimore
Sorry, DC, but Baltimore stays winning. My Crew Be Unruly was the mid-summer blowout that somehow managed to get every single Baltimore Club DJ within a 50 mile radius to show up at the Paradox. The vibe was so on point, from a B-Boy Battle set to Wiley's "Wearin' My Rolex," to a snack bar that had simply the best chicken wings ever. The whole night was straight B-More gutter until 5AM. Unfortunately, though, the party marked one of the final appearances of Club Queen K-Swift, before she died two days later.
Runners up (or hot parties I didn't make it to):
Loda at Gallery, Silver Spring – Apparently Loda is an example to us stuck up city folks that the suburbs can get down as hard as the District. The Count and Sinden set here was supposed to be insane.
Hometown Heroes at the Trinidad and Tobago Association, Petworth – I keep forgetting to go to this party and it's a shame because its shaping up to be the best nights in the city, and it rolls on until 5 AM. Crazy.
Goldleaf (RIP) – This "in the know" warehouse party ran for years in Chinatown until it got forced out by gentrification. Damn yuppies.
Bloombars (various events) – This Columbia Heights spot brings uber artsyness to a deprived DC. Known for bringing in cutting edge artists like Kissy Asplund, this spot has been getting nothing but rave reviews since it opened this past summer.